Junginger Book Club
First Monday of the month at 6:00PM
Meets in the library conference room
The monthly adult book discussion group mainly focuses on historical, political, and nonfiction books. New members are always welcomed! No need to register. Just read the book and show up ready to discuss it. If you'd like us to place the book on hold for you, call us at 920-478-3344 or email pjacob@waterloo.lib.wi.us        
September 4 6:00pm Children Save Yourselves! One Family's Story of Holocaust Survival by Ronald Berger
                                                                                                                                                                                                                                                   Children, Save Yourselves! is a compelling true story of two Jewish brothers who survived the Holocaust in Nazi-occupied Poland. One brother, the author's father, endured several concentration camps, including the infamous camp at Auschwitz, as well as a horrific winter death march. The other brother, the author's uncle, survived outside of the camps by passing as a Catholic among anti-Semitic Poles, including a group of anti-Nazi Polish partisans, eventually becoming an officer in the Soviet Army. The book traces the defining prewar, wartime, and postwar events that marked their extraordinary lives.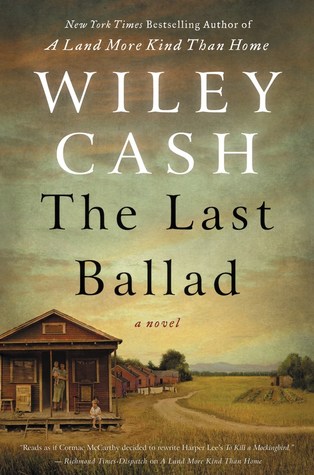 October 1 6:00pm The Last Ballad by Wiley Cash
Twelve times a week, twenty-eight-year-old Ella May Wiggins makes the two-mile trek to and from her job on the night shift at American Mill No. 2 in Bessemer City, North Carolina. The insular community considers the mill's owners—the newly arrived Goldberg brothers—white but not American and expects them to pay Ella May and other workers less because they toil alongside African Americans like Violet, Ella May's best friend. While the dirty, hazardous job at the mill earns Ella May a paltry nine dollars for seventy-two hours of work each week, it's the only opportunity she has. Her no-good husband, John, has run off again, and she must keep her four young children alive with whatever work she can find. When the union leaflets begin circulating, Ella May has a taste of hope, a yearning for the better life the organizers promise. But the mill owners, backed by other nefarious forces, claim the union is nothing but a front for the Bolshevik menace sweeping across Europe. To maintain their control, the owners will use every means in their power, including bloodshed, to prevent workers from banding together. On the night of the county's biggest rally, Ella May, weighing the costs of her choice, makes up her mind to join the movement—a decision that will have lasting consequences for her children, her friends, her town—indeed all that she loves.Seventy-five years later, Ella May's daughter Lilly, now an elderly woman, tells her nephew about his grandmother and the events that transformed their family. Illuminating the most painful corners of their history, she reveals, for the first time, the tragedy that befell Ella May after that fateful union meeting in 1929.
Save
Save
Save
Save
Save
Save
Save
Save
Save
Save
Save
Save
Save
Save
Save
Save
Save
Save
Save
Save